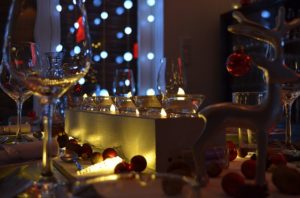 Colourful decorations garlanded the room and fairy lights sparked on the Christmas tree.
The family was gathered around the table.
Aromas of the feast to come filled the air.
The wine was poured and the toast proposed, "Merry Christmas, Dad".
The assembly stood to face the empty chair at the head of the table.
Glasses were raised, clinked and the toast repeated.
The tears started rolling down the cheeks of the invisible man seated in the empty chair, just as they had every Christmas dinner since his car swerved off the highway and burst into flames all those years ago.







Christmas Toast is my Advent Ghosts Flash-Fiction story for 2017.