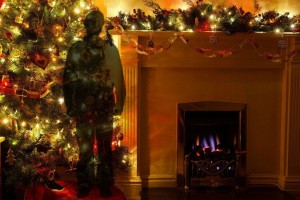 Her children finally asleep, Lucy crept downstairs carrying their presents.
Without turning on the lights, she entered the living room and started walking towards the Christmas tree in the far corner.
The headlights of a car turning in the street outside illuminated the scene within revealing the man she had once loved standing beside the heavily decorated tree.
The man smiled at her and slowly nodded his head. A year ago she'd pushed him off the top of a multi-story car park. He couldn't hit her any more, but ice still rolled down her spine.

A flash-fiction Christmas Ghost Story 2013